Democrats Care? (But I Thought They Were For the Poor?)
On Sept. 2 — five days after Katrina hit the Gulf Coast — Rep. William Jefferson, (D-La) used the National Guard to help him visit his property and rescue his personal belongings. This was while New Orleans residents were trying to get rescued.
(
ABC
)
Is this some of that compassion for the poor that Democrats are saying Bush was lacking? Or is this a lot closer to the "no care for poor people" that they are speaking out about?
Where is Jesse Jackson or Kanye West? Where is Gov Blanco? Where is Nancy Pulosi?
Take a look at the face of what "Taking Care of Minorities" looks like.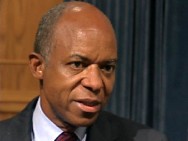 Rep. William Jefferson, (D-La)